National Basketball Success for Abby Cubillo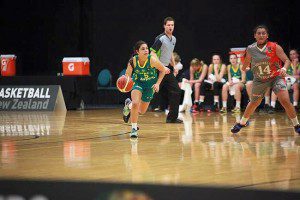 Barker College Student Abby Cubillo plays in the U'17 Sapphires Australian Basketball Team and Qualifies for the 2016 U'17 World Championships in Spain.
Abby Cubillo has had an extraordinary first basketball season in Sydney since arriving at Barker College in Year 10, in January 2015. Upon arriving in Sydney, Abby joined the Hornsby Spiders ABA NSW Women's Waratah League team and U'18 Girls team coached by Sydney Flames Coach Shannon Seebohm.
Prior to Barker, Abby represented the Northern Territory in both the U'14 and U'16 level at the Australian Basketball Championships. Upon joining Barker, Abby quickly established herself in the team helping Barker get within a few points of Redlands for the first time in a number of years in the ISA Semi-Final. Following on from the ISA competition, Abby represented at ISA and CIS levels, then was selected to represent NSW All Schools in the Pacific Schools Championships in Adelaide, November 2015.
In April, Abby went on to Captain and represent the Northern Territory in the Australian U'18 Championships. In this tournament Abby's outstanding performance lead to her selection in the U'17 Sapphires Australian team in the 2015 Oceania Championships.
Throughout the year Abby has embraced the many opportunities available dedicating herself to her studies and sport. Her performance, work ethic and attitude saw Abby selected as starting Point Guard for Australia in all games, with Australia going on to win the Oceania Championships and qualify for the 2016 U'17 World Championships in Spain. Outstanding achievements for such a young performer.